Dave Griffin is a stained glass artist based in the Peak District in Derbyshire. He works throughout the UK
Horse & Foal
Commissions, Glass painting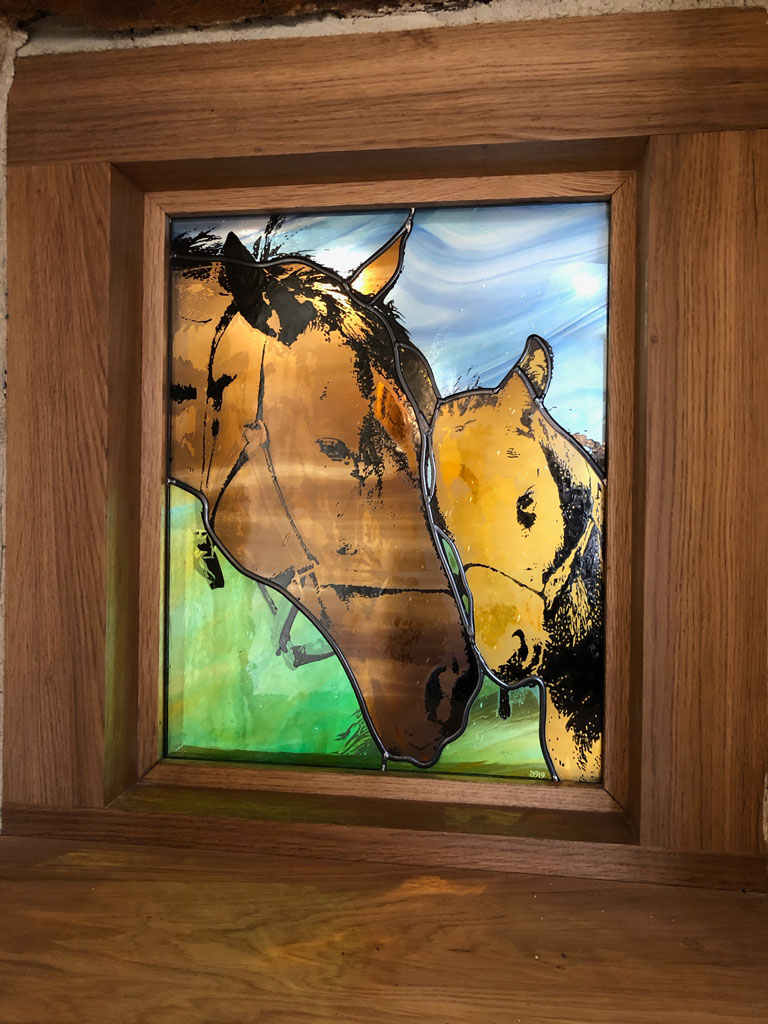 ---
Services Provided
Design, making and installation of windows for domestic, ecclesiastical and architectural settings
Traditional leaded lights
Restoration of windows both in situ and in the workshop
Introductory 3-day courses
Triple glazing (encapsulation) of new and existing stained glass
About Me
This website gives you an introduction to my work as a designer and maker of original commissioned window and door panels which are made using traditional techniques and materials.
The glass I use is specially chosen to suit the location and ambient light, and as a result the shade and quality of each piece changes with both the weather and the time of day.
Panels are especially designed in full partnership with clients, and have also been exhibited nationally.
Commissions
Stained glass commissions are undertaken both locally and nationally.
Commissioning a stained glass panel allows you to acquire a unique piece of art which above all is an expression of your ideas.
A complete service is provided from conception through to completion, and I aim to involve you fully in the design process.
My inspiration comes from the beauty of shapes and forms found in nature.
---
STAINED GLASS COURSES
---
Introductory Stained Glass Course

Dates for 2019
Friday 20th – Sunday 22nd September – only 2 places remaining
Dates for 2020
Friday 24th – Sunday 26th April
Friday 25th – Sunday 27th September
This 3 day long-weekend course will provide you with an introduction to the design and making of decorative stained glass panels. Each course is limited to four students to ensure everyone receives 1:1 tuition whenever they need it.
It will focus on the practical aspects of design, glass cutting and soldering with a view to completing your own small project using traditional leading techniques.
The cost for the three days is £450; this includes the provision of all tools and materials required, plus fresh tea and coffee.
SHOWS & EXHIBITIONS
---
Next show:
Thursday 11th – Sunday 14th June 2020, 10am – 5pm
Chatsworth Bakewell Derbyshire DE45 1PP
---
TESTIMONIALS
---
We love our hellebore window, it's exactly what we hoped it would be, it's a joy to watch the light change the colours as the day moves on.  I now understand why a commission is such a special thing; you have brought our ideas to life through your artistry.  I keep noticing new things about the hand blown glass and the shapes.  Thank you!  We're busy tidying up the ground and the wall outside the window so that there are flowers beyond the glass too. I hope we meet again sometime, we've very much enjoyed the process.
Claire & Alan W, 2019
As a family we loved the process of commissioning our fabulous stained glass window from you. The questions you asked gave us food for thought and evoked many happy memories of places we have been and which are now enshrined in the stunning piece you made to frame our new front door. You have succeeded in combining colours, memories and beauty all in the entrance to our home and it makes us smile every time we look at it. Your skill and artists eye has created a spectacular piece of art and we are so grateful to you and will cherish it.
You also made the process so easy, coming to see us on several visits and we weren't rushed into making any of the decisions that the design elements required. Our meetings were such fun and thought provoking. In the end we were very happy to leave the final design to your expertise, experience and skill knowing that we would not be disappointed. And we weren't.
We thank you for being an integral part of helping us turn this old house back into a much loved home and know that your part in it will live on into posterity.
We are very happy to have met you and I am now busy looking for more windows that might need some more stained glass.
Thank you Dave.
Tracey L-H, 2019
We found Dave very easy to work with. During our initial conversation we soon realised that we had similar ideas about stained glass, and that he was very sympathetic to what we were trying to achieve. We were delighted with his initial design which reflected exactly what we had in mind. Inevitably, we asked for some changes, but he incorporated these creatively and without fuss. The end product is as beautiful as we dared hope, and gives us daily pleasure..
Chris & Roger M, 2018
I commissioned Dave to create two panels for our inner front door. Our Edwardian house would have had decorative glass, which unfortunately had been removed in the past.I did not want to reconstruct the past, but create a new piece of art which would reflect my taste and compliment the house.After some thought and research, I produced a sketch of my idea, which I discussed with Dave. He suggested types of glass and colours, and seemed to understand what I wanted to achieve. When he emailed his design I was very pleased with his interpretation of my drawing. He caught the flow, colour, mood and lightness I wanted.Now every time I descend the stairs or walk from the kitchen to the living room I smile, as I am bathed in wonderful colours and light. Even when it is dark outside the design and colour are a joy
Claire C, 2017