Dave Griffin is a stained glass artist based in the Peak District in Derbyshire. He works throughout the UK
Felt Violin
Abstract, Commissions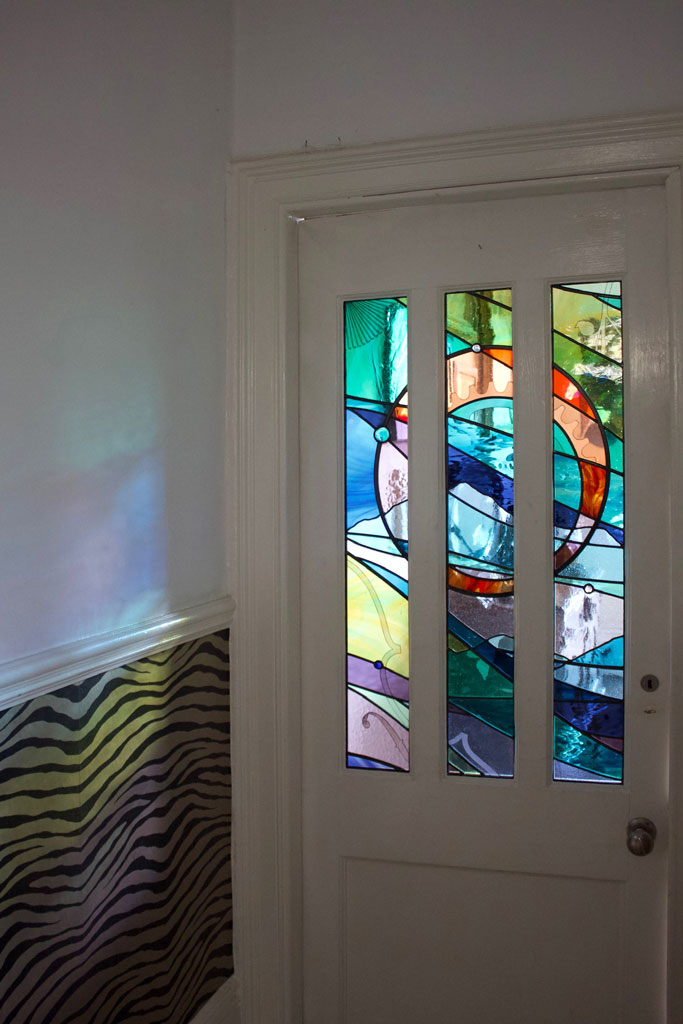 ---
Services Provided
Design, making and installation of windows for domestic, ecclesiastical and architectural settings.
Stained glass and leaded lights made using traditional technique.
Restoration of windows both in situ and in the workshop.
Introductory 3-day courses.
Triple glazing (encapsulation) of new and existing stained glass.
About Me
This website gives you an introduction to my work as a designer and maker of original commissioned window and door panels which are made using traditional techniques and materials.
The glass I use is specially chosen to suit the location and ambient light, and as a result the shade and quality of each piece changes with both the weather and the time of day.
Panels are especially designed in full partnership with clients, and have also been exhibited nationally.
Commissions
Stained glass commissions are undertaken both locally and nationally.
Commissioning a stained glass panel allows you to acquire a unique piece of art which above all is an expression of your ideas.
A complete service is provided from conception through to completion, and I aim to involve you fully in the design process.
My inspiration comes from the beauty of shapes and forms found in nature.
---
STAINED GLASS COURSES
---
Introductory Stained Glass Course

Dates for 2022
Friday 7th – Sunday 9th October 2022
Course full
This 3 day long-weekend course will provide you with an introduction to the design and making of decorative stained glass panels. Each course is limited to four students to ensure everyone receives 1:1 tuition whenever they need it.
It will focus on the practical aspects of design, glass cutting and soldering with a view to completing your own small project using traditional leading techniques.
The cost for the three days is £465; this includes the provision of all tools and materials required, plus fresh tea and coffee.
SHOWS & EXHIBITIONS
---
Next show:
To be confirmed
---
TESTIMONIALS
---
Dave produced 3 different local scenes, each comprising several panels, to install in some of our internal doors. They are all truly wonderful and we smile every time we see them! Our visitors love them too and they always attract compliments. Dave is so talented and his ability to create beautiful, colourful images from such gorgeous glass is amazing. Dave carefully chooses each piece of glass and expertly builds images that are full of life. Dave worked closely with us to develop ideas ensuring the locations depicted reflected the places we love. The 3 scenes work really well together and with our decor. Each door is now a work of art depicting well known beauty spots, like Monsal Head, as well as our own little idiosyncracies! Dave kept us involved in the process, updating us on our position in the waiting list, inviting us to his workshop and explaining his techniques. He was also extremely tolerant when our building project was significantly delayed! Thank you Dave!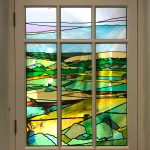 Paul & Jill A, 2021
We were keen to replace a solid door with some stained glass to improve the light coming in from our south facing back room into a very long and dark hall in a Victorian terraced house. We wanted the window to represent our lives, tell our story, in some way.
Working with Dave was so easy: he understood what we needed and we enjoyed sharing our ideas with him and then seeing the ideas he came up with. He involved us at every stage, but it was his interpretation and design ideas that made our windows so fantastic . The whole process was great from the initial discussion, to visiting his workshop half way through, and then seeing the final piece. 
Dave took great care to facilitate us bringing our precious windows home and also in the advice he gave to our joiner on fitting. 
From start to finish it was a thoroughly enjoyable commission and the final piece has transformed our home. Tremendous!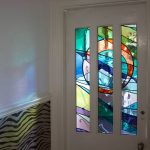 Moira & Mart W, 2021
Our stained-glass window is a special retirement gift for Simon. Online research quickly introduced us to Dave's website where the portfolio of commissions convinced us that we had found our artist. We anticipated that lockdown and our distant location would pose problems but quite the opposite: the whole process has been so easy and joyful.
Dave called us to discuss our idea, an abstract celebration of our family coming together through intercountry adoption. We were happy to give free rein to Dave's artistic interpretation as he immediately understood our project and suggested potential developments. Soon afterwards the design arrived attached to an email and was instantly accepted by us all, a wonderful reflection of all we had discussed. 
Precise measurements were eventually sent by us but thanks only to Dave's careful direction and annotated photos! Last Friday Dave and Cheryl made the long journey from Derbyshire to Kent to install our window. The same care and attention to detail were evident as each of the three panes was expertly fitted, the lines matching perfectly across the window. Dave is clearly passionate about his work, an amazing artist and craftsman. We love our window, a unique piece of art already much admired by neighbours and friends.
Jan & Simon M, 2021
David's work is of the very highest standard. We had over 200 windows to restore at our 16th century home. The work required extensive knowledge from a heritage / historical perspective to ensure that only the correct materials were used. David is one of the very few people left on the planet with the knowledge and skill to restore and create beautiful windows.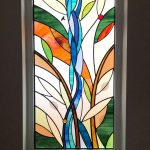 Eileen & Paul B, 2021
David's work is of the very highest standard. We had over 140 windows to restore at our 16th century home. The work required extensive knowledge from a heritage / historical perspective to ensure that only the correct materials were used. David is one of the very few people left on the planet with the knowledge and skill to restore and create beautiful windows.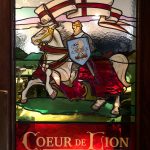 David & Jane R, 2021
David provided a first class job from start to finish, after commissioning him to provide a 50th birthday present for my wife.
We were involved right from our first meeting with David who skilfully absorbed our comments and ideas to produce a wonderful masterpiece that we can enjoy for the rest of our lives.
He captured and represented how we wanted the glass to be and we truly enjoy the end result every day.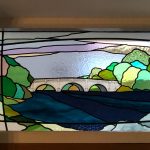 Nigel & Debs W, 2021
We approached Dave to design us a feature window to occupy a space between the porch and hall way of our house, receiving light from both directions. From the start, the process was collaborative and enormously satisfying. We looked at some of Dave's work online before he came round to find out what we wanted in terms of abstract/naturalistic design and to offer ideas on colour and basic concept. He came back to us with a proposal, which we liked so much that we asked for no changes. It featured a stylised butterfly inspired by mouth blown Venetian Murano glass.  Dave used traditional glass painting techniques and four different glasses from the UK, Germany and the USA, each with different textures and density. We visited him in his workshop towards the end of the process and to say we are thrilled with the result would be an understatement. We have a beautiful window, which will reflect the changes in light throughout the day and give us endless pleasure.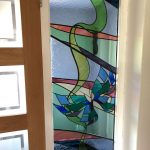 Ann & Chris T, 2020
Having worked with Dave Griffin on stained-glass themed products some 14 years ago, I was delighted to bump into him at the Chatsworth Flower Show a couple of years ago.  Fortuitous because I'd had some vague inclination to feature some stained glass somewhere in the house – now I could do something about it.  But what, and more difficult, where?Having decided on a 'triptych' in glass for our recently installed front door, the whole process from draft design to installation ran smoothly and, of course, pain-free.  We did have to wait a while but – what's worth having is worth waiting for, right?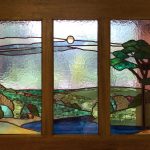 Ann C, 2020
Dave Griffin produced a lovely piece of work. He worked closely with us and came up with ideas to decide on the final design. We are delighted with the outcome.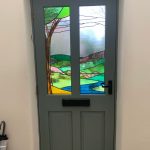 Janet & Richard K, 2020
Dave has created the most beautiful stained glass panel for our front door. He is so easy to work with, instantly understanding what we had in mind, which is a representation of the rolling Derbyshire countryside in the style of a painting we already have and love. Dave sent us photographs as the lush design came to life, enhancing our anticipation. Our front door is visible through our front gate and down the road so the entire village is enjoying Dave's work as they go about their business. We've had many comments from villagers, all so complimentary. You do such beautiful work, Dave. Thank you so much.
Liz & Peter L, 2020