I had the pleasure of meeting Dave in person when he visited our home for the first time as he was very keen to see the setting in which the glass would be placed…From that first meeting I knew Dave was truly passionate about his work and I had no doubt he was going to create something truly spectacular for our home…
It was such a pleasure to work with you Dave we are so overwhelmed by the beauty of our pieces which are constantly changing in the different levels of sunlight and the seasons.
A true professional and master craftsman -Thank you so very much !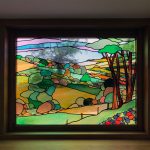 Dawn P
We love our hellebore window, it's exactly what we hoped it would be, it's a joy to watch the light change the colours as the day moves on.  I now understand why a commission is such a special thing; you have brought our ideas to life through your artistry.  I keep noticing new things about the hand blown glass and the shapes.  Thank you!  We're busy tidying up the ground and the wall outside the window so that there are flowers beyond the glass too. I hope we meet again sometime, we've very much enjoyed the process.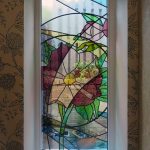 Clare & Alan W
As a family we loved the process of commissioning our fabulous stained glass window from you. The questions you asked gave us food for thought and evoked many happy memories of places we have been and which are now enshrined in the stunning piece you made to frame our new front door. You have succeeded in combining colours, memories and beauty all in the entrance to our home and it makes us smile every time we look at it. Your skill and artists eye has created a spectacular piece of art and we are so grateful to you and will cherish it.
You also made the process so easy, coming to see us on several visits and we weren't rushed into making any of the decisions that the design elements required. Our meetings were such fun and thought provoking. In the end we were very happy to leave the final design to your expertise, experience and skill knowing that we would not be disappointed. And we weren't.
We thank you for being an integral part of helping us turn this old house back into a much loved home and know that your part in it will live on into posterity.
We are very happy to have met you and I am now busy looking for more windows that might need some more stained glass.
Thank you Dave.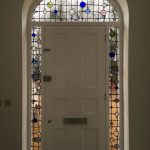 Tracey L-H
Dear Dave, I would like to thank you for our amazing stained glass window. You captured exactly the design and colours we wanted for the round window in our bedroom….. it just brings the room to Life! It was great working with you to create the design of the Perle D'Azure Clematis , a nod to our Horticultural Nursery as we are now retired. Thanks also for coming to fit the window. It is truly inspirational and unique to us!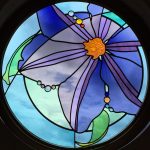 Sylvia and Tony S
I would highly recommend attending this course. Having had no previous experience of working with stained glass panels, I was apprehensive about what could be achieved over three days. I was delighted to complete a panel of a landscape, as well as a smaller copper foil project, to take home. Dave is a patient and encouraging teacher, providing invaluable advice, technical expertise and encouragement whenever needed. The course is very well structured, and the setting adds to the appeal. His wife ensured we were provided with lunch (much appreciated!). The course has given me a good foundation from which to consider further projects. Dave encourages an individual approach, reflected in the range of styles of the participants on the course I attended. His enthusiasm and and support throughout the course ensured an instructive and enjoyable experience!
Jana B
We found Dave very easy to work with. During our initial conversation we soon realised that we had similar ideas about stained glass, and that he was very sympathetic to what we were trying to achieve. We were delighted with his initial design which reflected exactly what we had in mind. Inevitably, we asked for some changes, but he incorporated these creatively and without fuss. The end product is as beautiful as we dared hope, and gives us daily pleasure..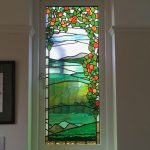 Chris & Roger M
I met Dave at a Craft and Artisan Fair in Buxton in late 2013. I was blown away by his designs and decided there and then that I must have one of his glass panels in my home. Following an extremely interesting consultation/design/creation process my transom window was fitted on May 10th 2014. To say that I'm extremely pleased with it is a massive understatement! What I particularly like is the fact that my window is uniquely mine – and Dave's of course – as no-one else will have anything quite like it.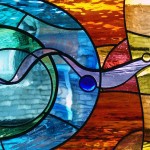 Sue H
This is the second window Dave has made for us. The only response to this work is 'wow'. We couldn't have asked for more from you Dave. Our commission was to create something beautiful to obscure the outside view but you have created a real masterpiece. It's only been in place for a few hours and already you are impacting on our lives. Many many thanks.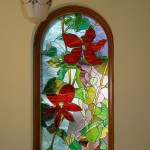 Pat M